Copyright :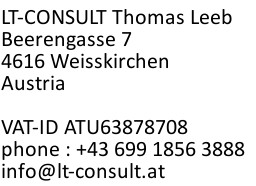 Pictures :
Header background image : © Nmedia – licensed through Fotolia.com
VNUG 2013 :  © Bo Johnsson
all others including the LT-CONSULT Logo  : © Thomas Leeb
Use of trademarks, brand names and product names
In connection with our offerings we use references to a number of companies, trademarks, product names. The company, product and brand names mentioned herein are trademarks, registered trademarks and/or service marks of their respective owners.
These include but are not limited to :
HP (Hewlett Packard) and the names of HP products referenced herein (HP Nonstop often simply referred to as "Nonstop") are either trademarks and/or service marks or registered trademarks and/or service marks of HP.
Microsoft, Windows, Windows NT, Windows 2000, XP, .Net, SQL Server, and Office are either trademarks or registered trademarks of Microsoft Corporation.
CSP, Computer Security Products, Protect, AuditView, Passport, Alert Plus, File Integrity Checker, Compliance Reporting Module are trademarks or registered trademarks of Computer Security Products Inc.
ITP, ITP-Panorama are trademarks of ITP Software und Systeme GmbH
Greenhouse, $AS, BaReLib, Insite, ProCoSEEP, DiskWipe, WasteBasket are trademarks of Greenhouse Software and Consulting.
CommitWork, CDS, Omnivo, OmnivoBase, OmnivoMobile, OmnivoRSC are trademarks of CommitWork GmbH.
Attunity, Connect, Federate, Replicate, CDC are trademarks of Attunity Ltd.
Links to external sites
We thoroughly check external target sites before we link to them, however we don't continuously check for changes and updates contained therein. We are not under control over information contained in external links and expressly reject any responsibility therefor. Should you identify any inappropriate information contained on external sites we link to, please let us know and we will remove the link accordingly.
Product Descriptions from Software Vendors
We are providing software descriptions in accordance to materials we receive from the respective software vendors. We are not providing any warranties about accuracy of product details and features. In case of doubt please use the external product datasheet, we generally link to on the software vendor's website or contact us.